How To Change Mailing Address
This page goes over the process of changing your mailing address. A change of address (COA) request can either be temporary or permanently. You can request both options online or fill out PS Form 3575, which you must obtain from your local post office. Form 3575 cannot be printed from your home computer anymore. You can see an example of the form below.
Front Side Of 3575 Form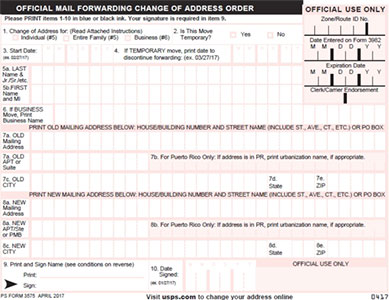 Back Side Of 3575 Form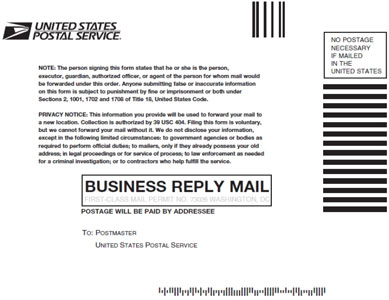 Cost of Changing of Address Request
If you make your COA request online, then you will be charged a $1.00 identity validation fee. USPS allows you to use either a credit or debit card along with your billing address to pay for the fee. If you prefer not to use your card, then you can go to a post office and obtain a PS Form 3575 and fill it out there and submit it.
Getting Started With Your COA
First thing to do is to notify everyone who sends you mail of your new address and the date on which you plan to move on. This would make your Change of Address process faster and easier. USPS recommends to do this 2 weeks prior to your move date. Most bills and statements have an area for making these address change notifications.
File The Change of Address Order
Below is a list of options for filing your Change of Address, the requirements and options you have and how to proceed with filing your request.
Filing Options
Requirements/Options
How to File
File Change of Address Online

$1.00 identity validation fee required
Eligible Credit/Debit Cards (no prepaid or gift cards):
- MasterCard
- Visa
- Discover
- American Express
Email address required
Military addresses are eligible
If you are moving from a military address, your email address must end in ".gov" or ".mil"

Fill out online form at:
https://moversguide.usps.com/
File Change of Address at the Post Office

No fee required
International addresses (moving TO an international address) are eligible by using the Mover's Guide only; International COA cannot be completed online

Pick up a Mover's Guide at your local Post Office and follow all instructions
Please note, the COA may not be completed in more than 3 months prior to moving.
Who can file a COA?
The person submitting the Change of Address form must state that he or she is the person, guardian, authorized officer, executor or agent of the person who's mail they are forwarding under this order. For anyone submitting false or inaccurate information on the form will be subject to punishment by imprisonment or fine or both.
Change of Address Confirmation
After you schedule your COA, the USPS will mail a Move Validation Letter (MVL) to the address you are moving from in order to validate the move. Then, within 5 postal business days before the COA start date, you will receive a Customer Notification Letter (CNL), or a Welcome Kit in the mail at your new address. Inside the CNL and Welcome kit will be your confirmation code. Make sure you hold onto this confirmation code as it allows you to easily make changes or cancel the COA request. If you don't have this code, you would have to visit your local post office to change or cancel your COA order.
If you make your Change of Address online, you will then receive your Move Validation Letter and Customer Notification Letter mentioned above. Addition to that, you will also receive a COA confirmation via email which will contain your Confirmation Code. The USPS highly recommends you retain this code for future changes or cancellations. Due to privacy and security reasons, the USPS will not issue a duplicate Change of Address confirmation letter, except only under special and out of the ordinary circumstances. In those instances, a fee of $50.00 will be billed.
What Happens Next
On the start date of your COA request, the USPS will stop delivering mail to the address you moved from. As they send mail to your new address, you should expect it to start arriving within 7-10 postal business days from when the Change of Address started.
Temporary COA forwarding time limits
The minimum time period for a temporary forwarding request is 15 days. Temporary Change of Address requests, or known as seasonal forwarding, provide forwarding of mail to a temporary address for a max of 364 days, which starts from the listed start date. Mail will then stop being forwarded on the end date you listed on your COA request.
Permanent COA forwarding time limits
For a certain amount of time, the mail sent to your old address will be forwarded to the new address. This depends on the mail class, as seen in the chart below. Forwarding time limits for specific mail classes is as followed:
| Mail Class | Forwarded for |
| --- | --- |
| First-Class Mail, First-Class Package Service-Commercial, Priority Mail service (bills, invoices, personal correspondence, reply mail) | 12 months |
| Priority Mail Express service (merchandise, printed material) | 12 months |
| Periodicals (magazines, newsletters) | 60 days |
| USPS Marketing Mail (formerly Standard Mail) (advertisements, catalogs, retail offers) | Only forwarded if the mailer specifies forwarding instructions |
| USPS Retail Ground | 12 months (Forwarded only to domestic addresses) |
| Library Mail, Bound Printed Matter and Media Mail | 12 months (Forwarded only to domestic addresses) |
If No Change of Address was Filed
If you do move and do not file a COA request, then your mail carrier will pick up the mail that has accumulated and leave a notice advising you that your mail will be available for pickup at your local post office. Then your local post office will automatically hold any accumulated mail for up to 10 calendar days. After that, most mail items will then be returned to sender. If an item cannot be forwarded or returned to the sender, the mail will then be discarded.
COA for multiple people in your household
If some members of the household that have the same last name are moving with you, but others are staying, you will then need to fill out a separate Change of Address form for each person moving using the individual option. If some members of your household are moving and have different last names, but others are staying, then you need to fill out separate COA forms for each person moving using the individual option. If the entire household is moving to the same address and each member has the same last name, then you only need to fill out one COA form, using the family option.
Modify or cancelling an existing Change of Address Request
In order to modify or cancel an existing COA request, you can do so online. You must know your new zip code and have your confirmation code that you received after placing your COA order. To get started visit https://managemymove.usps.com/. If you lost your confirmation code, you will then need to visit your local post office and talk to one of the postal clerks about any changes you need to make with your COA order.
How to file a COA for a military address
If you are moving to or from a Military address (APO, FPO, DPO), you then need to fill out the online Change of Address form at https://moversguide.usps.com/. The COA can only be submitted, viewed or canceled using their online system. It cannot be modified. If you are moving from a military address, the email you use must end with either .gov or .mil.
How is Military Mail Forwarded?
It is forwarded according to the guidelines listed below:
When mail is sent in bulk to a central military location, the military will be responsible for forwarding mail in accordance with Postal regulations
When the USPS provides service to individual military receptacles, the Postal Service is responsible for forwarding mail
All Priority Mail Express Service, First-Class Mail, First-Class Package Service-Commercial, USPS Retail Ground, Periodicals, and Package Services addressed to persons in the US Armed Forces (this includes civilian employees) serving where US Mail service operates is forwarded at no added charge when the Change of Address is caused by official orders
If the official permanent change of station order is to an overseas (APO, FPO, DPO) address, military authorities forward mail between the US and those addresses. Forwarding is limited to 60 days